Before the product is designed and packaged, it must be integrated with the corporate brand, closely integrated with the market, and communicate with customers in depth. The idea must be inclusive and try to understand the customer. Of course, you must keep your own ideas and your own style, but you will never refuse to be thousands of miles away. The brand itself also has its own ideas. We can refine and integrate the core elements of extraction into the product packaging design. We believe that as long as it is a valuable element, the customer will also agree with it. And when the customer chooses me, it also understands my design attitude. This requires both parties to agree with each other. Therefore, how to coordinate their own ideas with customers is very important.

From the current creative point of view, the development of design has become more and more diversified, cross-border, whether it is graphic design, interior design, product packaging, fashion design or automotive design, can all converge, which gives the design The teachers provide more room for thought. When designing, they often only design a box, label, and bottle appearance. But now more is considered the brand, the overall image of three-dimensional representation. From packaging to advertising promotion, it also participates in dynamic multimedia.

The mutual integration of Chinese and Western cultures is particularly important in design. This is an inevitable trend. Therefore, designers should understand the character and proposition of the modern international market. Of course, we all have different orientations. In terms of the general environment, the integration of Chinese and Western ideas is the mainstream. Therefore, we have always insisted on creating an original design, persisting in the consideration of our customers, and relying mainly on market recognition to respect each other. For example, "Ningxia Hong", "Aochen", "Hetao Baijina Milk", "Tonghua Ice Wine", "Zhongzhonghe", "Floating Spring", "Qiannianchun", "Tiandi Haohao" and "Taiyong "Hepatic and Kidney AIDS" and so on, the product received the market's approval accordingly, and the company also obtained a return. Particular attention is also paid to the protection of intellectual property rights. Because I believe in the power of originality, I also believe that originality is the space for future design development.

We offer a wide choice of different types of Patio furniture collections, which cover garden rattan sofa, outdoor dining set, chat set, rattan bar set. With splendid style and smooth line, every details and quality is presently perfectly. Excellent surface treatment process and the selection of products for climate and UV have long-term protection ability, getting more than your money`s worth.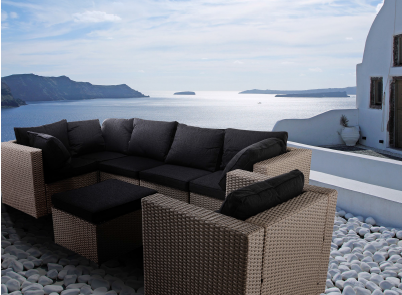 Patio Furniture Sets,Outdoor Patio Furniture,Patio Chairs,Garden Table And Chairs
SEVENZE INDUSTRAL CO.,LIMITED , http://www.sevenze.com